This is our first case study of how our members are coping in the current crisis – read how a small company with a focus on well-being has adapted and responded to needs within the NHS.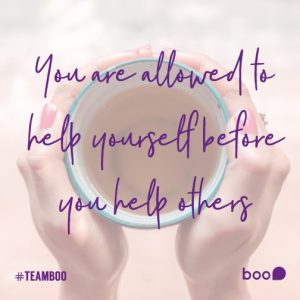 Boo Coaching and Consulting is one of our smallest members but is punching well above its weight at this time of crisis. It is a company, based in the North-West, that offers coaching and consulting to make workplaces a better place to work.
As a small business the initial news of lockdown led them to a first week of worry and anxiety, reviewing all aspects of the business in a hope for survival. Meanwhile a number of current contracts were postponed and one was cancelled all together.  After that week the Director gave everyone a week off (as part of their unlimited paid time off policy) so that the team could focus on settling into a new way of being at home with work, caring responsibilities and home schooling.
She was at the point of writing the letters to put all the members of staff on furlough when a call came through from a local NHS Trust to see if Boo Coaching and Consulting could help with well-being for staff.
Director Becci, who is a mental health nurse by background and recently re-joined the Covid-19 temporary nursing register, took the decision to do the contract at cost in recognition of their need to cover costs but not wanting to profit from the pandemic.
This contract has evolved over the last 7 weeks and they now have a dedicated well-being centre on one of the hospital sites where 2 well-being coaches are offering a wide range of staff well-being interventions including;
· Emotional support for staff in all roles across 2 large hospital sites
· Leadership coaching and support for managers across the entire organisation
· A listening ear when things are tough
· Virtual well-being resources in the form of recently recorded webinars
· Coordinating and distributing donations including vegetable boxes and beauty products
· Creating well-being boost bags for staff
· Establishing smaller, safe space for staff to take a moment to find calm
· Providing virtual support over the 7 day shift pattern across 2 large hospital sites
· Sharing free well-being resources with the nursing and care homes that support the hospital trust.
The team at Boo is excited to see their principles applied. They know the power of the little things like being appreciated and have been prolific on the hospital's social media page encouraging sharing of stories of kindness and compassion between staff.
Demand is high with a focus on staff mental health and well-being and the company now finds itself looking to recruit as other NHS Trusts also request their services. Amy, their Business Development Lead, told me:
"It's almost like what we were made for. We need to strike a balance surviving as a small business and supporting healthcare workers through this crisis, but we feel like we have achieved that."
Bridget Lees who is Director of Nursing at Southport and Ormskirk Hospital had this to say:
"I've worked with Boo before and knew they'd instinctively understand what well-being support our teams needed in this difficult time. They've brought their trademark compassion and positivity and we're glad to have them on board."
As Director Becci Martin said when Boo joined the GBC:
"We are determined to prove that we can do business differently, with fairness and kindness at its heart."
We are delighted to have Boo Coaching and Consulting as one of our GBC members and that they have been able to serve key workers in this way.