Following the collapse of their wholesale business due to Covid-19, one of our members, Raise Bakery pivoted into the online sale of flour.  They have sold 10 tons of flour online and are on target to have one of their busiest months in their 11-year history.
Raise Bakery is a Worthing-based family-run artisan bakery which began in 2009. Prior to the lockdown the company specialised in large scale and wholesale cakes with that "baked at home" taste for a range of customers in the retail, wholesale and airline markets, for brands including Virgin Atlantic, No1 Lounges, Netto, British Airways and Qatar Airways.
Following the Covid-19 lockdown, Raise Bakery saw the overnight collapse of its wholesale bakery business. As a result, they shut up shop and furloughed the team before realising the opportunity to sell flour and other baking ingredients direct to consumers from their website.
It was following a request from his local community Facebook group for flour, that Jeremy had an idea to sell flour and other bakery ingredients that had disappeared from supermarkets and shops. He built a website in 24 hours and saw demand increase quickly, having implemented a new ordering and logistics system overnight.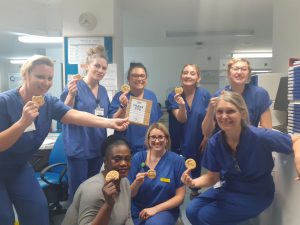 Raise has since been able to provide temporary work and paid the living wage to 10 people who had recently lost their jobs.
Owner Jeremy Jacobs initially decided to reopen the bakery in week two of lockdown to supply cakes and treats to NHS frontline staff and carers which was extremely popular. They hand delivered thousands of cakes and treats to care homes, hospitals and NHS Trusts all over Sussex including Royal Sussex Country Hospital.
In additional, Raise Bakery has partnered with Pay It Forward Direct in Brighton and Hove – they provide over 5,000 meals a week to the homeless, vulnerable, NHS frontline workers and food banks. Raise Bakery has committed to provide desserts and cakes for every order placed on their online shop and last week donated their second 5,000 portions of cake to the community kitchen.
Raise continues to grow its online shop to be the number one online destination for professional grade bakery ingredients for the "at home baker". Customers have been delighted with the quality of products and level of service with 95% of customers rating them five stars.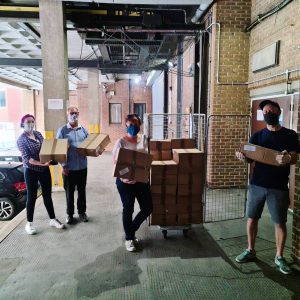 Jeremy Jacobs, owner and Managing Director at Raise Bakery, comments: "What started as a way to help out friends and people in the community has turned into a viable new business. We've been quite overwhelmed with the demand! We've had to employ quickly whilst implementing new health and safety measures to ensure the wellbeing of the team and their loved ones. They have been fantastic, and we've pulled together to ship 250 orders a day. It's been wonderful to be able to give back to the community by donating food to local community kitchens, food banks and NHS frontline staff."
With thanks to Jeremy for the photographs.