The Results
Fieldwork conducted between 25th and 27th June 2021, with a sample size of 2,148, for the Good Business Charter, in collaboration with TSB showed the following headline trends:
79% of people think a business acting responsibly is extremely or very important and a further 18% think it is somewhat important.  Just 2% of people think a business acting responsibly isn't important.
While there is some variation based on income, geography and age priorities remain largely consistent as does the strength of feeling people have about the need for businesses to act responsibly.
45% of people avoid brands that act irresponsibly and 89% of people said they would be more likely (49% extremely/very likely and 40% somewhat likely) to switch brands if they knew a brand was acting irresponsibly.
Most people don't feel they have enough information about how businesses behave.  There is no silver bullet to communicate with people but over half of people felt an independent 'fairtrade style' logo would help.  Over half also indicated a company's website would be a place they would turn.
People's ranked priorities (ranked 1 or 2 on a scale of 1-7) for responsible business are:

fair employment practices (48%)
paying a fair share of taxes (38%)
treating suppliers fairly (31%)
reducing their impact on the environment (29%)
having ethical sourcing practices (21%)
having an employee base that is representative of modern Britain (17%)
contributing to local communities (16%)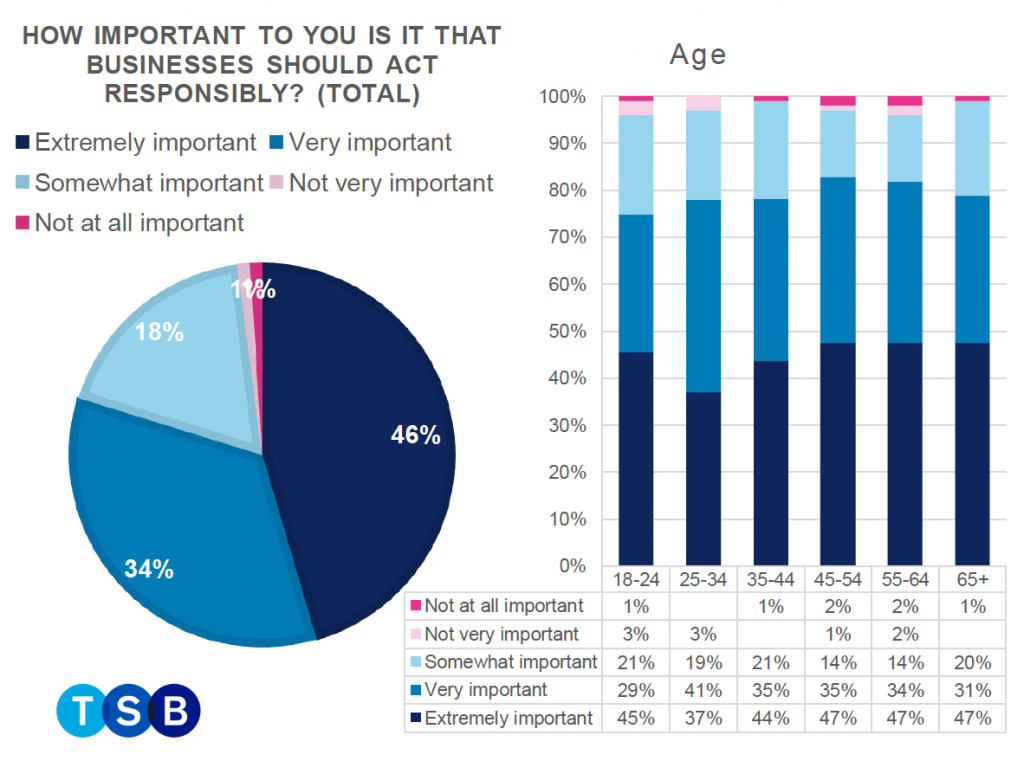 Our Response
To be honest, the statistics speak for themselves.  Regardless of income, age or geography, people care about businesses acting responsibly.  It has become a MAINSTREAM subject.
97% of people think it is important that a business acts responsibly.
Most consumers want more consistent information from businesses and more than half polled would value a simple independent certification.  This is exactly what the Good Business Charter seeks to be.  It is independent, it is a certification, and it is simple to understand.  10 components, businesses need to commit to all 10 in order to achieve GBC accreditation.
We hope that businesses would take notice of the consumer trend here and seek to lead their industry in achieving GBC accreditation.  It is straightforward to apply, free for the first year with nominal fees thereafter.  Join today.