It is one thing to say you are committed on paper to our 10 components.  To embed them into the very core of your organisation is quite another, yet it is as this occurs that the real value of the GBC is unlocked. 
Our vision is for each employee within a GBC accredited organisation to know all about what it means: to proudly include the logo in their email signature and know what their employer stands for. 
I had the opportunity pre-pandemic to work shadow Julian Richer which included popping in to an induction of new colleagues. I watched Julian question the cohort about the importance of the customer experience and more widely on The Richer Way. Right from the outset, the principles of ethical capitalism were instilled in the workers. 
If we are saying that the GBC is serving the market of consumers wanting to shop with responsible business and employees wanting to work for responsible businesses, then they need to see evidence of that, otherwise they are empty words. For a small organisation with four or five employees that can be relatively straightforward, especially in examples such as these:  

Having a visual prompt helps to champion the GBC so more people understand what we do and what our accreditation means, but it is also to show an organisation's employees, customers and suppliers what their GBC status is so that they can whistle-blow if any of the ten component commitments are not being adhered to.  
In chatting to our larger members in recent months, we have heard some excellent examples of how a larger organisation might go about embedding the GBC. Saffron Building Society took one component a month and communicated to their staff team what it meant to them and what they were doing to continue on that journey of embracing diversity and inclusion, reducing their environmental impact, or sourcing goods ethically.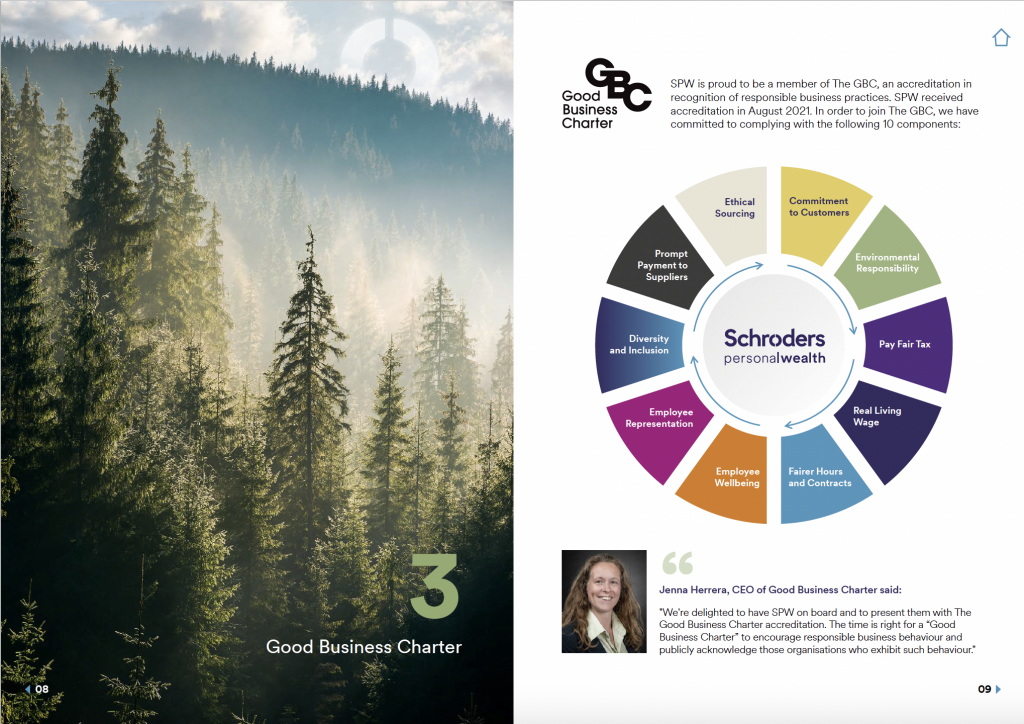 Schroders Personal Wealth has published a fantastic report which has set out their work and future ambitions across our 10 components which equips them to explain both internally and externally why this matters to them. 
Joel Ripley, their Chief Finance Officer who chairs their Responsible Business Network said: 
"We would recommend working with the Good Business Charter to any company wanting to become a more responsible business. For us, the GBC's ten components are a simple to understand but extremely robust framework that show us how we should think about responsibility and sustainability. They certainly reflect the business standards that are important to us and which I am genuinely passionate about. 
At Schroders Personal Wealth we have been committed to transparency from the very start. Being open and honest with ourselves, our clients, and our stakeholders. We recently produced our first Responsible Business Report, based on the GBC's ten components, as an important extension of that commitment to clarity. 
It has forced us to assess where we are relative to the targets we have set. We've got the basics right, but we now need to push forward to stop ourselves becoming too comfortable. As we move closer to our targets, we'll begin asking: how can we improve? What's the next target? How do we get from good to better to best? It's about always striving to succeed and exceed. 
It's an exercise which I think every company should undertake as a celebration of what it's achieved and as a reminder that there is always something else to do. We will definitely be publishing a report every year to make sure we keep heading in the right direction."
It is our hope that many organisations will indeed take their commitment to the Good Business Charter's ten components as a baseline from which to push forwards to continually improve.  We look forward to hearing more examples from our accredited organisations of what they are doing in each component, so that we in turn can share those with our community and together inspire one another to be better. 
Our message to all those who are passionate about responsible business behaviour is to model it and communicate it well so that all those people who want to shop ethically and work for a business that cares can see you are one of them.