Member Update
This month we are delighted to have welcomed 36 new members this month bringing our member total to 712, including 52 charities and public sector, and 613 SMEs.
Carbon Consultancy for SMEs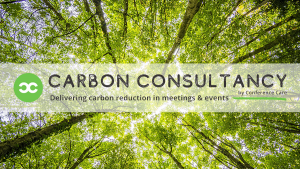 GBC member and events agency Conference Care have announced the launch of a new service –
Carbon Consultancy by Conference Care
. The consultancy will enable event organisers to accurately measure carbon emissions generated by an event, provide solutions which educate, create behaviour change and deliver carbon reductions. It also offers a portfolio of carbon programmes allowing the remaining footprint to be offset if required, making the event carbon neutral. For many SME's who want to know how they can work towards net zero – this could be a great first step, congratulations Conference Care!
How the GBC fits within ESG
This month we have been looking at how the Good Business Charter fits within ESG – ESG stands for Environmental, Social and Governance and refers to a set of standards for a company's operations that socially conscious investors use to screen potential investments. The Good Business Charter has a solution that helps organisations of all shapes and sizes move forwards in these important principles – which can also be expressed as caring for people and the planet alongside profit, or the triple bottom line. If you would like to read more, see our blog about it
here
.
Membership Packs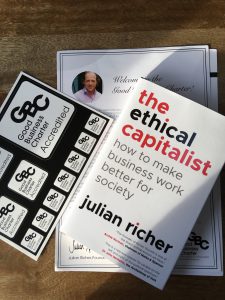 We have been delighted to see you sharing photos of your membership packs on social media – please be patient with us if you haven't yet received your pack or you are a new member – we are a very small team and hand posting them to you!
Member Spotlight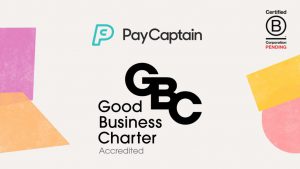 This month our member spotlight is PayCaptain! PayCaptain are a payroll software and service company who gained GBC accreditation this month but are also BCorp pending! We have a lot of questions about where we fit compared to other accreditation schemes within the space of responsible business, but we see value in each accreditation and recognise the work and resources that go into a BCorp accreditation. Fantastic work from PayCaptain! If you would like to read more on where we fit, see our
website
.