The Good Business Charter is open for the public sector, charities and other organisations in the third sector. We want to recognise public sector and third sector organisations that have responsible practices towards the environment, their employees, stakeholders and suppliers alongside the valuable public service/charitable work they do.
The Soil Association joins Oxfam, Amnesty International, Trussell Trust, Christians Against Poverty, and most recently Shelter, in joining the GBC for Charities accreditation. We are delighted at the work that GBC member and charity The Soil Association has achieved.
The Soil Association; the charity that digs deeper to transform the way we eat, farm and care for our natural world.
Working with communities, businesses, and local authorities to promote healthy and sustainable diets.
The Soil Association aims to transform the way we eat, farm and care for our natural world. The organisation campaigns to raise awareness of the vital relationship between the health of soil, plants, animals and people. By promoting sustainable farming practices and advocating for food policies that put the nation's health first, the Soil Association believes we can mitigate global issues such as climate change, deforestation, and food security.
The organisation is the only UK charity working across the spectrum of human health, the environment and animal welfare. In this blog, we are shining a light on how communities and businesses can become more sustainable by changing how they produce, buy and eat food.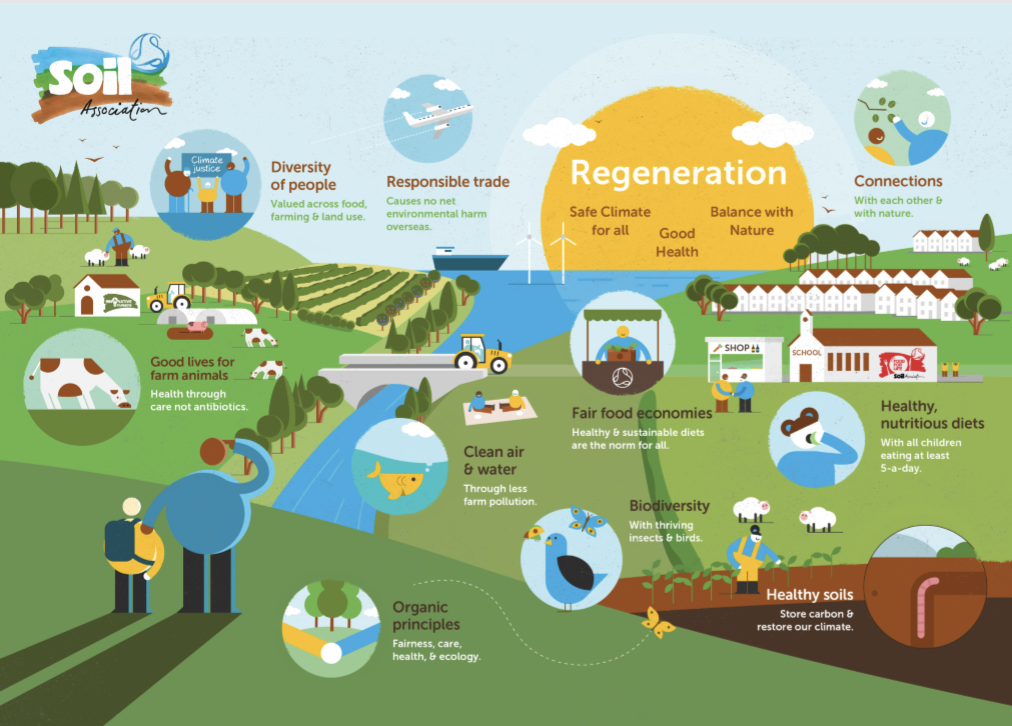 Action through education: Transforming the way we eat
Soil Association's Food for Life Programme advocates that healthy food produced with care for the natural world should be available to everyone. They work with schools, hospitals, and caterers to help them make simple changes to serve nutritious, locally sourced food, without breaking the bank.
Working with caterers
Caterers can work towards two different awards from Food for Life.; Food for Life Served Here improves the quality and sustainability of food on plates and The Green Kitchen Standard looks at reducing waste food, water and energy when cooking that food in the kitchen. Through transforming food culture, these programmes are helping people enjoy locally sourced food, reducing food miles and tackling energy, water and waste issues. In the UK, there are over 1.8 million meals per day that meet the Food for Life Served Here standards.
Through Food for Life, the Soil Association aims to fulfil all 17 of the UN's Sustainable Development Goals (SDG) to end poverty, fight inequality, and tackle climate change by 2030.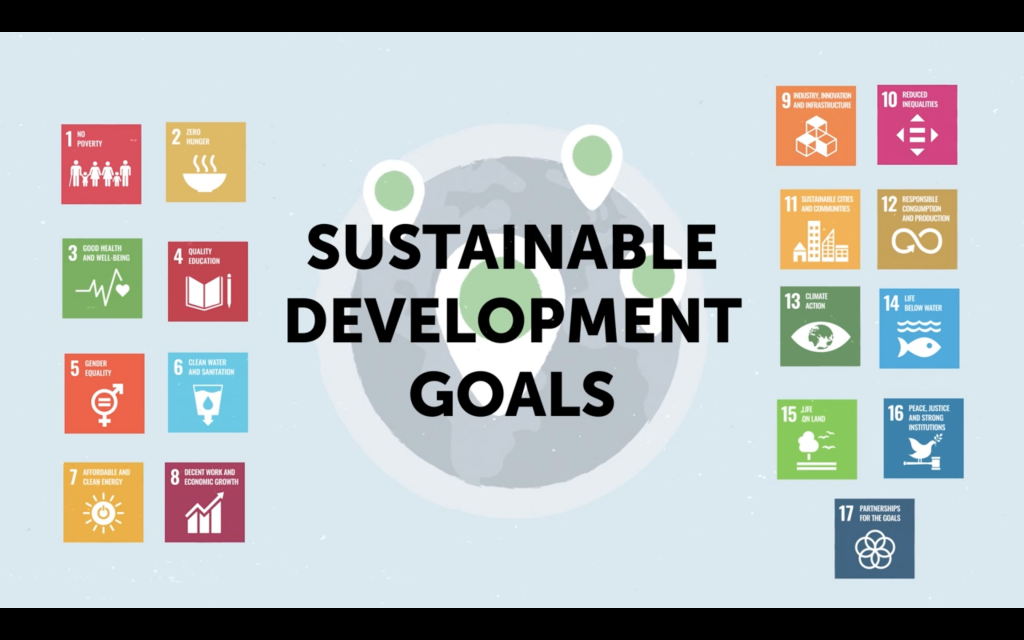 Below are some examples of how they are doing this:
Fulfilling SDG 1, 2 and 10 by championing things like free school meals and campaigning for better food in workplaces and hospitals.
Working towards SDG's 14 and 15 by backing nature-friendly farms and forests and encouraging responsibly sourced fish.
Fulfilling SDG 12 and 13 by helping caterers to save energy and cut down on waste.
Accomplishing SDG 4 by teaching young people and adults where their food comes from, and how to grow and cook fresh, healthy and sustainable food.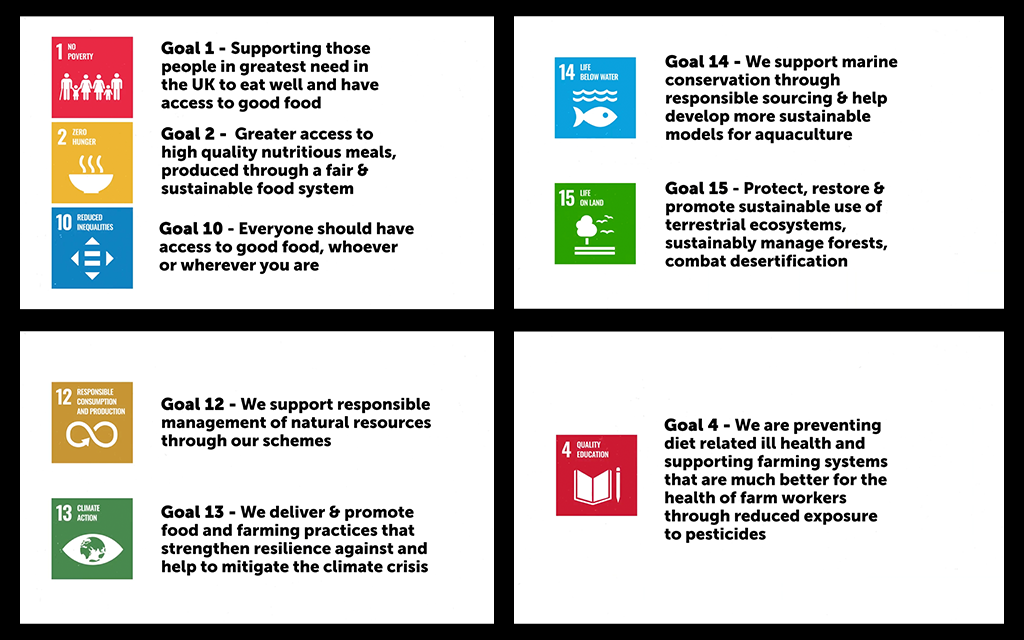 How does their work affect the world of responsible business?
There are a range of actions that every organisation can take to source and consume food that is local, healthy and produced sustainably. Whether you are a caterer, a community leader, a school teacher or a local representative, you can get involved in their programmes and champion healthy and sustainable food. For details on their schemes and resources, you can also visit their Sustainable Food Places page.
The Soil Association are currently running a variety of campaigns, so there are plenty of ways in which organisations can get involved: Save Our Soil, The Time is Now, and A green Brexit for food and farming. Participating in movements like these can help organisations achieve the Good Business Charter accreditation. It also helps organisations demonstrate the active role they are playing towards building a more sustainable future.
For more information on ways, your business can implement this goal, see their website.
Images credit to The Soil Association.