Fairer Hours and Contracts
The GBC requires a fair approach to zero or minimal hours contracts, including fair shift scheduling and cancellation policy, and proper consideration given to contracts with guaranteed hours.  
What it is
This component concerns the use of zero or minimal hours contracts for your directly employed and regularly contracted staff. If you do not use these in your business then this component is not relevant.
The one exception is where you use zero hours contracts because flexibility is part of the role and it is freely accepted by the employee.  You will be asked if you offer or use zero hours or minimal hours contracts and you can answer 'No' to this question if the zero hours contracts you have in place are freely entered into by the employee and they have individually confirmed this.  This is to recognise the fact that some arrangements like these can exist to suit both parties (employer and employee) to their mutual benefit.  We are NOT referring to the practice of standard zero hours contracts where employees are given no other option and are left unsure from month to month of how much income they will receive.  In this situation we would expect you to then meet the requirements with regards to shift scheduling and guaranteed hours.  We welcome whistle-blowers reporting GBC members if such contracts do exist where employees are not able to freely choose and do not meet these requirements.
A zero hours contract is a type of contract between an employer and a worker, where the employer is not obliged to provide any minimum working hours, while the worker is not obliged to accept any work offered.  They are most frequently used in the agriculture, hospitality, education and healthcare sectors.  They are different from fixed term contracts that might be offered for a fruit-picking season or a particular event.
Platform economies
Within this component it is important to raise the issue of what are known as platform economy companies, such as Uber and Deliveroo.  Whilst working for platform economy companies can be advertised as offering great flexibility for workers, in reality there are issues in price and pay-setting, matching of workers with clients, allocation and evaluation of work through algorithms and monitoring of work using digital tools.  Common to virtually all platforms is an effort by operators to deny those who work through them an employment relationship and avoid obligations, such as the payment of minimum wages and trade union rights.  
The TUC recently published a set of essays looking at this issue in more detail, highlighting some of the problems around over-supply of workers for the work available as well as drawing out some opportunities to give a voice back to workers in these companies.  We are also official supporters of Fairwork who is committed to highlighting the best and worst practices in the platform economy, publishing ratings on how they treat their employees. 
We welcome efforts to improve the employment rights of gig economy and platform economy companies and ensure platform work is decent work.
A gig or platform economy company would be able to join the Good Business Charter if they were able to ensure employees were receiving the real living wage, had guaranteed work with security of contract, had their wellbeing properly cared for (not just via an online platform), a voice – and the ability to unionise if employees wished to – and appropriate measures to ensure diversity and inclusion in the workforce.  This will be a challenge for the industry in its current state but we are hopeful that things will improve to show that a platform economy company can also champion responsible business behaviour.
Why it matters
Living hours has found that 1 in 6 workers are in insecure, low paid work with millions facing cancelled shifts and a lack of stable hours.
An employee on a zero hours contract does not receive a guaranteed amount of income each month. For some people this can leave them vulnerable and struggling to meet their basic needs, especially if supporting a family or trying to rent a home.  A fair approach to zero hours contracts for those who would prefer not to have this arrangement helps protect the employee.
Smaller organisations
For companies with up to 50 employees we have developed a streamlined version of the accreditation in collaboration with Federation of Small Businesses.  Please find more information about this and the questions you will be asked here: https://www.goodbusinesscharter.com/streamlined-version-FSB/
Self-certification for organisations with over 50 employees
The GBC defines a fair approach to zero or minimal hours contracts with regard to shift scheduling, shift cancellation and guaranteed hours as follows:
Shifts must be scheduled with at least 2 weeks' notice – shifts can be added at shorter notice but can be declined by the employee without penalty
Shifts cancelled at less than 2 weeks' notice will still be paid
Guaranteed hours
a) Employees may request a contract with more fixed hours at any time, without consequences.
b) Employers to review actual hours worked annually and initiate a supportive conversation with a view to providing a contract at or close to the hours actually being worked as soon as they are able.
The questions that form part of the self-certification accreditation process will ask you to commit to this approach. Please note that the questions are specific to zero and minimal hours contracts, not all contracts.
Accreditations on fairer hours
Separate accreditations exist in this area.  Zero Hours Justice has a Fairer Hours standard which matches the requirements within the Good Business Charter.  The Living Wage Foundation has developed a Living Hours accreditation which takes the requirements further, requiring 4 weeks rather than 2 weeks notice on shifts and cancellations. 
Concerns
If you are concerned that you will not be able to answer these questions but believe that your organisational practices follow the spirit of this component, please consult with us so that we can make a judgement on whether we believe you meet the requirements of the component.  We are really keen to have organisations of all sizes and from all types of industries and sectors joining the Good Business Charter.  These are standard questions and for some organisations there may be questions that are just not relevant or too onerous.  We want to hear from you if you feel that is the case and we will take a sympathetic view.

Zero Hours Justice
If you are working towards GBC accreditation, and fulfil our Fairer Hours and Contracts component, you are eligible for Zero Hours Justice's Fairer Hours standard. Find out more here: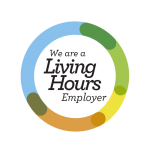 Living Hours
The Living Wage Foundation has developed a new standard called 'Living Hours' which takes our baseline a step further and requires four weeks notice of shifts and payment for shifts cancelled within those four weeks. We consider this as best practice in this area but recognise not all organisations are able to make this commitment at the current time.
Good Business Charter
Take the first step now and sign up with us today. If you receive accreditation to the GBC, membership will be FREE for the first year.
Our 10 components
Find out more about the ideals that make up the cornerstone of the Good Business Charter.
Read more>
Whistle-Blowing
Calling all employees, customers and suppliers.
If you have reason to believe that a GBC accredited organisation is not meeting its obligations, please let us know.